Disability, Inclusion, & Access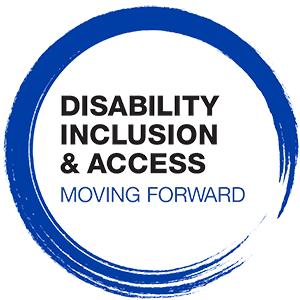 Addressing philanthropy's silence on disability
The keynote conversation between Darren Walker, President of Ford Foundation, and Grant Oliphant, then President of The Heinz Endowments, interrogated philanthropy's silence on disability. Well over two hundred attended the initial program, and 97% indicated that they planned to apply what they learned in making changes at their organization.
Together, we continue to challenge our partners to recognize that people with disabilities are already among their staff, volunteers, clients and donors. While people with disabilities are being served, far too often their experiences and needs are not adequately addressed or even considered.
Many important steps to improve accessibility can be made at little to no extra cost, as long as the needs of people with disabilities are considered during planning. There are a host of tools available to ensure accessibility of publications and clear standards for websites. Social media can be made more accessible with image descriptions, alt text. And routinely asking about accessibility needs during event registration can make your guests feel welcome and improve the quality of the experience for all participants.
Recently, we engaged Andraéa LaVant, LaVant Consulting, Inc., to conduct a series of classes for our grantees and partners to build their knowledge and skills in producing accessible communications and events.
The Disability Inclusion & Access website includes many practical resources to assist nonprofit organizations to be more accessible and inclusive:
A series of short videos featuring disability advocates that can be incorporated into staff meetings and diversity trainings.
An online resource library to assist with increasing accessibility
A series of free "how-to" webinars on various aspects of accessibility, from communications to customer service to event planning. These were commissioned and produced by Bender Consulting Services, a global leader in promoting employment of people with disabilities.
FISA Foundation and The Heinz Endowments awarded a series of small grants to help nonprofits implement accessibility improvements, and we are continuing to work together to advance inclusion. Both foundations have signed the Ford Foundation's Disability Inclusion Pledge for philanthropic organizations and are excited to be partnering with other funders to make changes to better address disabilities. As an outgrowth of this work, we're partnering with The Pittsburgh Foundation to more intentionally address the intersection of race and disability.