FISA Foundation is pleased to announce that Blayre Holmes Davis, Dr. Rachel Kallem Whitman, and Ena Lebel have been elected to serve on the Board of Directors. "I am excited that these stellar women share FISA's commitment to equity, justice, and inclusion and know that their talent and leadership will help to advance FISA's mission and priorities," noted Kristy Trautmann, FISA Foundation's executive director. With the addition of these Directors, the board will be comprised of nearly 50% women of color and 50% women who identify as having a disability or have expertise in disability issues, aligning with FISA's commitment to increasing the diversity of its Board.
As the Director of Community Relations for the Pittsburgh Steelers, Ms. Blayre Holmes Davis brings a wealth of experience in community engagement initiatives and programs. She also has deep expertise in issues impacting women and girls, having previously served as Director of Advocacy and Community Outreach at Adagio Health and as the Program Manager at the Women and Girls Foundation. In 2019, she was appointed by Governor Tom Wolf to the Commission for Women.
Ms. Ena Lebel is also an advocate for women's rights as counsel for sexual harassment and discrimination cases and as a Board Trustee at Women's Law Project, and as Board Chair for Healthy Start, Inc., an organization supporting maternal health in the Black community. She is a champion of social justice, equality, and inclusion as the Executive Director of the Pittsburgh Legal Diversity & Inclusion Coalition, a non-profit organization committed to increasing the diversity of legal talent in Pittsburgh, and as a project consultant for Common Impact, a national non-profit organization that connects corporate employees to nonprofit organizations with proven models to tackle the greatest challenges our communities face.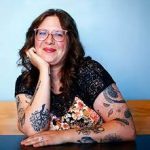 Dr. Rachel Kallem Whitman is an adjunct professor at Duquesne University where she teaches courses in disability studies. She is also an experienced public speaker who has presented at schools, colleges, foundations, and nonprofits about challenging ableism (disability oppression), framing disability rights as human rights, and the moral imperative of intentionally including diverse brains and bodies in everyday life. Dr. Kallem Whitman is also an avid writer who has published a book, articles, short stories, poems, and essays about the societal barriers and biases that marginalize the experience of living with a disability
In addition to approving these new Board members, FISA also elected Karen Farmer White as President of the Foundation; Chaton Turner as Vice President; and Dr. Josie Badger as Secretary. Other officers include Lynette Lederman, Immediate Past President, and Katie Minnock, Treasurer.
Karen Farmer White, President
Chatón Turner, Vice President
Dr Josie Badger, Secretary

Lynette Lederman, Immediate Past President