by Kristy Trautmann, Executive Director, FISA Foundation and Carmen Anderson, Chief Equity Officer, The Heinz Endowments
In November, FISA Foundation and The Heinz Endowments launched Disability Inclusion & Access: Moving Forward.  We invited our grantees and foundation colleagues across the greater Pittsburgh area to explore "a better equity agenda," one that includes the largest minority group in the world: people with disabilities. While FISA Foundation has a long history of addressing disability explicitly, the Endowments has focused historically on broader issues of equity, inclusion and justice primarily through the lens of race and gender. The Endowments recognized with humility that it would be learning alongside grantee and foundation colleagues with the launch of this initiative, and transparent public acknowledgement of this fact was intentional.
Rather than explore this idea abstractly or position it as "new," our two foundations challenged participants at a November convening that introduced the initiative to recognize that people with disabilities are already among their staff, volunteers, clients and donors.  While people with disabilities are being served, far too often their experiences and needs are not adequately addressed or even  considered.  Unintended consequences of policies and practices can contribute to or exacerbate accessibility barriers. The availability of resources to address the needs of people with disabilities can either be helpful or a hindrance depending on how disability is considered within an organization.
Integral to the process in planning the convening was the recognition of the importance of hearing directly from those most affected in their own voice and as featured experts during the sessions. The program established a broad context for the conversation, rooted in equity and justice; highlighted the gains of the disability civil rights movement; and acknowledged the many disparities that remain.  It ended with a clear call-to-action, focused on recognizing and removing barriers to accessibility.  Well over two hundred attended, and 97% responded that they planned to apply what they learned in making changes at their organization.


Several convictions shaped the design of the initiative, and we hope will drive its success.
First, context matters. It's not an accident that society tends to forget about people with disabilities, even when we are discussing diversity. We share a long and cruel history of ostracizing and erasing people with disabilities. Many


of those who attended the launch event had only a vague and incomplete knowledge of this history. The keynote conversation between Darren Walker, President of Ford Foundation, and Grant Oliphant, President of The Heinz Endowments, explored this further, interrogating philanthropy's silence on disability (video available here).
Through this discussion we also sought to deepen the narrative change agenda.  When we emphasize what we perceive to be wrong with people, when we communicate about them, we make incorrect stigmatizing assumptions and view them with a deficit lens. All too often, people with disabilities are identified with this deficit frame.  Part of our goal was to continue to advance asset framing, which looks through a lens of strengths to move beyond stereotypes, to put inequities in context and to increase the likelihood of more positive outcomes. Addressing unconscious bias and racism and the treatment of people as though they are invisible was identified as integral to reframing discourse about disability and inclusion and moving beyond the status quo.
Within the foundation community with our varied priorities, deepening our understanding of disability in the context of the intersection of race, gender and sexual orientation is critical to moving complex agendas forward. Progress can be made towards becoming more inclusive and just by addressing  structural barriers and disparities using our positions of power to advocate for solutions starting with basic access and respect for all,  and making intersectional linkages in our work in addressing many  longstanding  urgent issues.
Second, people remember moments that move and challenge them.


We recognize that change is hard and that leaders juggle many competing priorities. With the belief that motivation lasts longest when issues feel personal and immediate, we curated a day filled with short talks from compelling speakers with a range of disabilities. They described the stigma and barriers they encounter in daily life. Nearly everyone in the room recognized ways that their own organizations were creating unintentional barriers that were shutting people out.
As foundations, we learned that we can lead the way in ensuring that people with disabilities have the same access to resources and information as people without disabilities beginning by targeting our own communications approaches.  While we are challenging grantees to look at their practices and procedures, it's equally important to challenge ourselves to look inward at our own communications as a measure of our diversity and inclusion.  We can do more than talk about what it means to be inclusive as part of our equity and social justice practices by ensuring that digital, multimedia, publications, and grant applications are all accessible.  Many important steps can be made at little to no cost.


Collectively, foundations host or sponsor numerous events.  Routinely asking accessibility questions when planning and scheduling and providing necessary accommodations can drastically improve access and the quality of the experience for all participants.
Third, good intentions aren't enough to overcome gaps in knowledge and capacity. We have such respect and high regard for our nonprofit partners and recognize that many of them are already operating with strained capacity. Even if leaders are deeply inspired and feel moved to create a more welcoming and inclusive culture, it's easy to get stuck when faced with a lack of practical assistance. So, we are following the initial convening with very concrete technical assistance and grant funding. With the help of many experts, we curated an online resource library of clear and simple tools, and encourage our grantees to access assistance on demand. We believe access to this information has the potential to increase awareness, encourage advocacy and support internal audits to help build the case for action around inclusive practice.   We also commissioned Bender Consulting Services, a global leader in promoting employment of people with disabilities, to deliver a series of free "how-to" webinars on various aspects of accessibility, from communications to customer service to event planning. (The next webinar, on website accessibility, will be held on January 29 and we invite you to participate.)  In early February, we will be releasing a Request for Proposals for grants up to $20,000 to help nonprofits in the greater Pittsburgh area to be more welcoming and accessible to people with disabilities.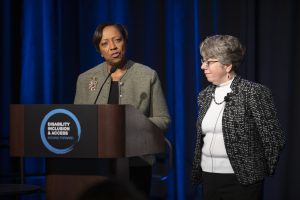 While it's too early to know whether Disability Inclusion & Access: Moving Forward will have the impact we hope for, we believe that the combination of inspiration, context, education and funding will prove to be the "secret sauce" enabling good people to act.  We are heartened by the enthusiastic response across our community and know that every journey begins with taking a single step.