The ABLE Act created a new type of savings account for people with disabilities.  Similar to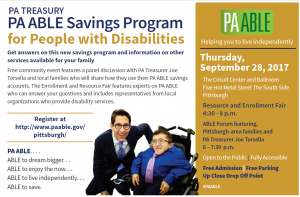 a 529 account for college savings, ABLE Accounts allow individuals with disabilities and their families to save money for a range of future uses, without jeopardizing continued benefits and services because these funds are exempted from asset limit eligibility tests.
The PA Treasury Department has been working with advocates across the state to raise awareness about the ABLE Accounts.
On Sept 28 there will be a public event in Pittsburgh to share more information about ABLE Accounts and to answer questions.

Forum on ABLE Accounts
Thursday, September 28, 2017
The Circuit Center and Ballroom, Five Hot Metal Street,  South Side Pittsburgh
Resource and Enrollment Fair 4:30 – 8 p.m.
ABLE Forum featuring, Pittsburgh-area families and PA Treasurer Joe Torsella 6 – 7:30 p.m.
Open to the Public | Fully Accessible
Free Admission | Free Parking Up Close Drop Off Point
More info at www.paable.gov/pittsburgh/