Jodi Kantor lecture will be rescheduled
NOTE: This event will be rescheduled for Fall 2020.  All ticket-holders have been notified of the change.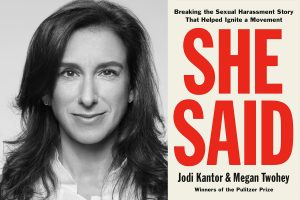 FISA Foundation is pleased to support Pittsburgh Arts and Lectures, who, in partnership with Southwest PA Says No More are bringing Pulitzer Prize-winning reporter Jodi Kantor to Pittsburgh on April 27 at 7pm at Carnegie Library Lecture Hall in Oakland. Tickets are $10 and can be purchased online or by calling 412.622.8866,
Jodi Kantor and Megan Twohey broke the news of Harvey Weinstein's sexual harassment and abuse for the New York Times.  They co-authored She Said, to share the untold story of their investigation and its consequences for the #MeToo movement. 
For years, reporters had tried to get to the truth about Harvey Weinstein's treatment of women and the long-circulating rumors of his wrongdoing. When Jodi Kantor and Megan Twohey began their investigation into the prominent Hollywood producer for the New York Times, his name was still synonymous with power. Persisting, Kantor and Twohey were able to convince some sources to go on the record, setting in motion a dramatic final showdown between Weinstein and the New York Times. 
  
In the tradition of great investigative journalism, She Said tells a potent story about the power of truth. Kantor and Twohey describe the consequences of their reporting for the #MeToo movement and the inspiring and affecting journeys of the women who spoke up—for the sake of other women, for future generations, and for themselves.